Who are The EriAm Sisters?
Mr. Piers Morgan, a hard to please judge of the popular NBC show Americas Got Talent, said to the EriAm Sisters "You are the future, you are the next Destiny Child, you have got incredible voice". Sharon Osbourne said "right now, there are no girls like the EriAm Sisters in the music industry" while David Hasslehof said "you are the most talented kids I have ever seen since the beginning of the show".
Before becoming Semi-Finalists on Americas Got Talent, many asked "how it was possible that such a big voice can come out of a little girl", referring to Haben's voice recorded when she was only 8 years old. Indeed, Haben and her sisters possesses a voice that is so controlled and mature, you would think your ears were playing tricks on you.
Music's newest darling, Haben Abraham (15), now makes up 1/3 of the progressively POPular new group EriAm Sisters, the other two thirds are none other than her equally talented and beautiful sisters Salina (17) and Lianda (19). "EriAm" stands for Eritrean-American; the talented and diverse trio wanted a name that would highlight the uniqueness of their cultural makeup and international aspect of their journey. The EriAm Sisters come from a musically and culturally diverse family. Their parents were born in an East African country named Eritrea. As for the group, Lianda and Salina were born in Amsterdam while younger sister Haben was born in Seattle.
Since age two, the sisters have been belting out songs in more than one language. It wasn't until Haben was seven that their musical gifts were noticed at their school. Haben's music teacher told the parents that Haben is an exceptionally brilliant singer, actor, and performs with grace and ease of a seasoned professional. Similar comments were flowing for Salina and Lianda. Needless to say, stars were born!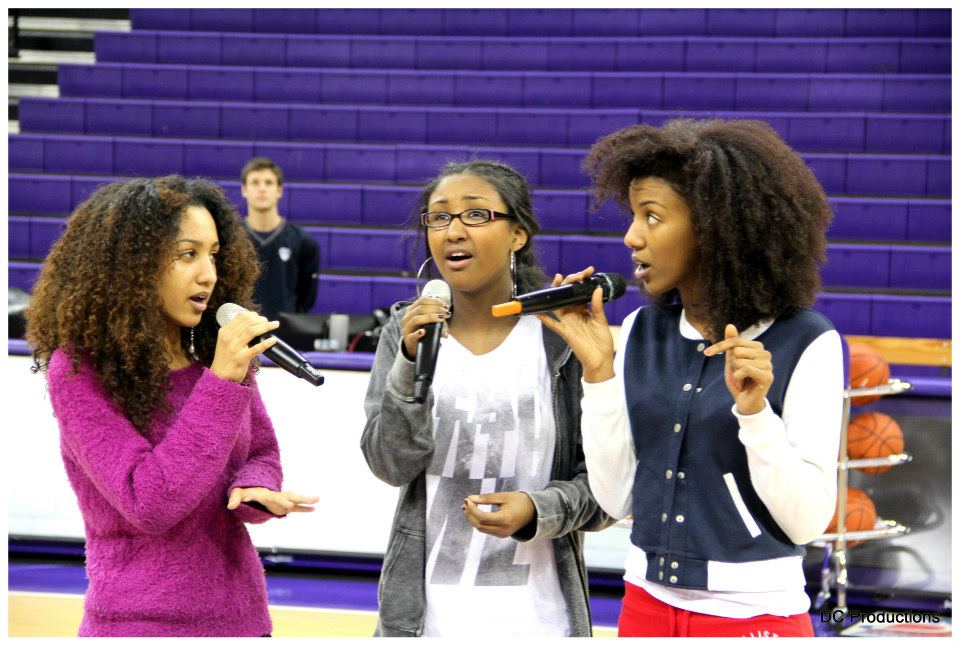 For the last three years, Haben, Salina and Lianda have wowed crowds with their stage presence and extraordinary performances across the nation. EriAm's fan-base is rapidly growing and has viewed their recorded performances and profile over 7,000,000 times on the popular YouTube.com. They appeared on National TV, radio, magazines and have performed in various celebrity events, including a VIP event at the Disney World. The talented trio have received a KEY TO THE CITY of Renton as recognition of their extraordinary talent and musical contribution in the Community. "We work perfectly together and even gave nicknames for each other, I am the VISION, Lianda is the COMPASSION and Salina is the DETERMINATION". Haben and her sisters are diligent; they write their songs and choreograph their moves meticulously. The first song they wrote stood number 1 for 5 weeks on Hot 105.7, a major Clearchannel radio in Alabama.
The extraordinary gift make many super producers want to work with the girls. To mention a few; Andrew Lane (High School Musical), Francesca "Francci" Richard (Coach Carter, Akeela and the Bee, Dr. Dre), Nicholas Cooper (Beyonce, Ciara, Jada Pinkett-Smith), Vassal Benford and DJ Freestyle who is the official DJ of Timbaland and Justin Timberlake.
The sisters have grown up to be international artists with fans all over the world. Last summer they have completed a tour to Europe, Middle East and Africa where they were honored with a presidential dinner.
Although the big voices of the young ladies readily take on the challenging works of mega divas such as; Celine Dion, Mariah Carey, and Beyonce, they are extremely humble and eager to learn! "We want to be the next big thing", proclaims Seattle's little darling. Big shoes to fill for anyone, but the sisters are determined and on the right track. One thing is certain; the EriAm Sisters have begun to soar and are destined to shine.
 {Resources: The EriAm Sisters Reverbnation ; http://www.reverbnation.com/eriam}
Comments
comments