Microsoft YouthSpark
Reported By Crystal Brown.
"Microsoft YouthSpark is committed to helping young people capture opportunity. They offer programs to learn skills, to prepare for the jobs of the future, even to start your own business. YouthSpark was created for you."
Microsoft's General Manager for Citizenship and Public Affairs Lori Forte Harnick (pictured below, far right) accompanied by 17 year olds Delannah Collins-Wright (below, second from right) and Tim Clingan (below, second from left). Tim and Delannah were the Microsoft YouthSpark reporters at We Day Seattle 2014. With the support of Lori and Microsoft YouthSpark, Tim and Delannah experienced speaking on the We Day stage to thousands of youth, meeting members of the Seattle Seahawks and taking a "selfie" with the We Day crowd, which could be a world-record: 'Most Youth in a Selfie." Microsoft YouthSpark representatives were featured on Channel A TV Community Development Interview Programs.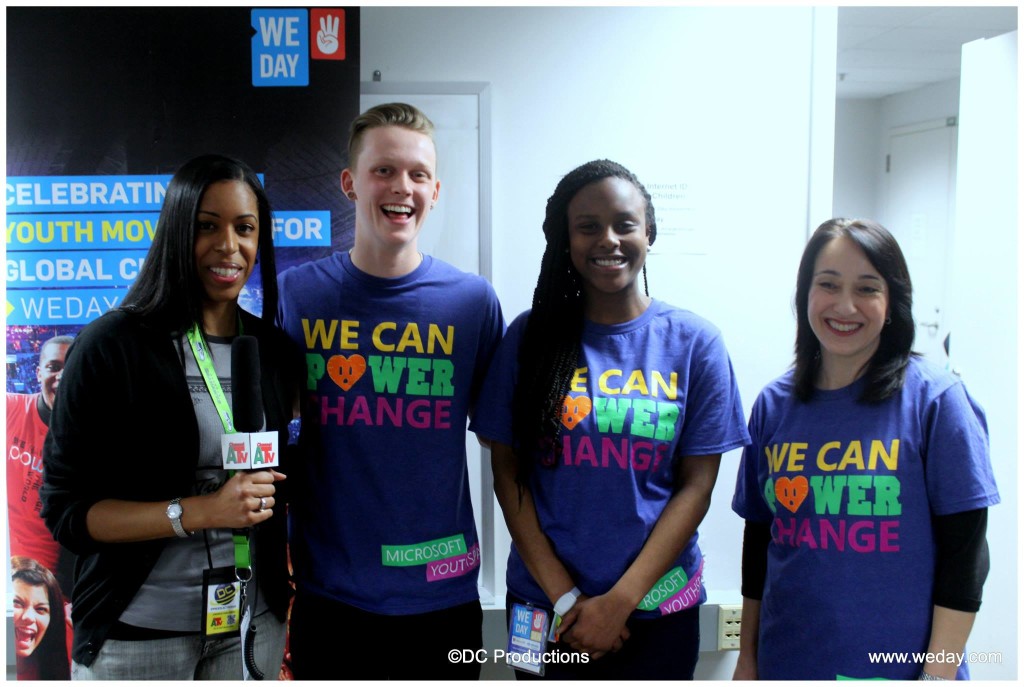 Today's youth face an opportunity divide – a gap between those who have access to the skills and training they need to be successful, and those who do not. With more than 75 million unemployed youth around the world, we must work together to close this divide in order to secure the future of our youth, and of our global economy.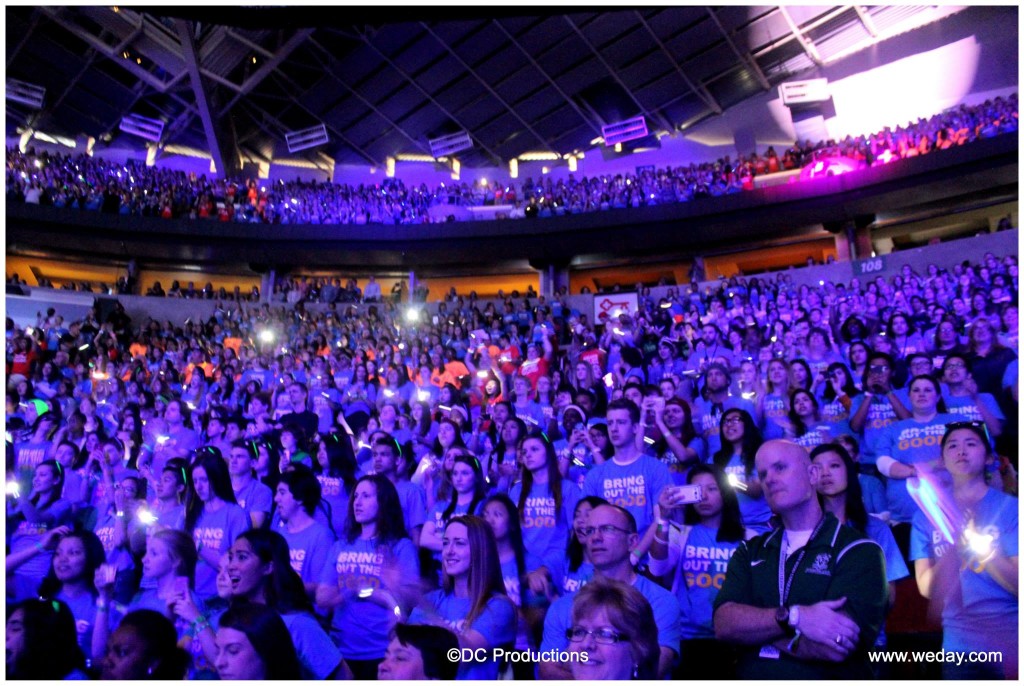 Last year, Microsoft CEO Steve Ballmer announced Microsoft YouthSpark, a company-wide, global initiative to create opportunities for 300 million youth over three years. Through 30+ programs and partnerships with 186 youth-serving nonprofits, in its first year alone Microsoft YouthSpark has created new opportunities for more than 103 million young people in over 100 countries around the world. Although there is much still to do, we're inspired by what we've seen: young people taking the lead in changing not only their lives but the lives of other around them, making a real impact in their local communities and on the global stage.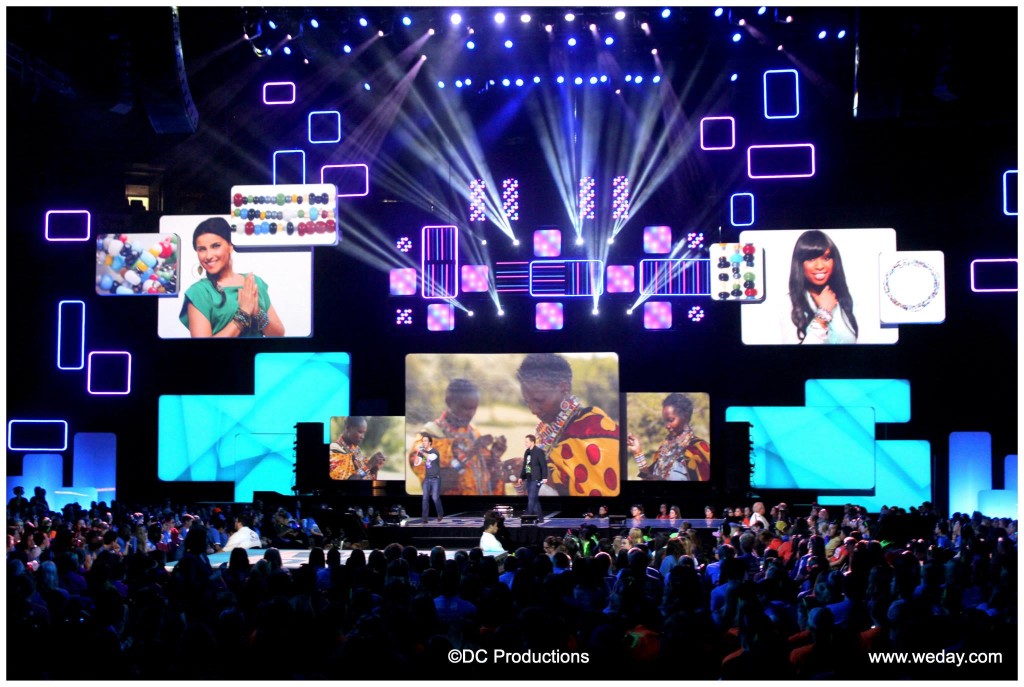 Brummel joined Microsoft straight from university in 1989. Since then, she's held a number of management and marketing positions across Microsoft's consumer, hardware and productivity businesses. For eight years prior to joining Human Resources, Brummel served as corporate vice president of the Home & Retail Division where she was responsible for overseeing worldwide development and business strategy for consumer hardware, software and Macintosh products.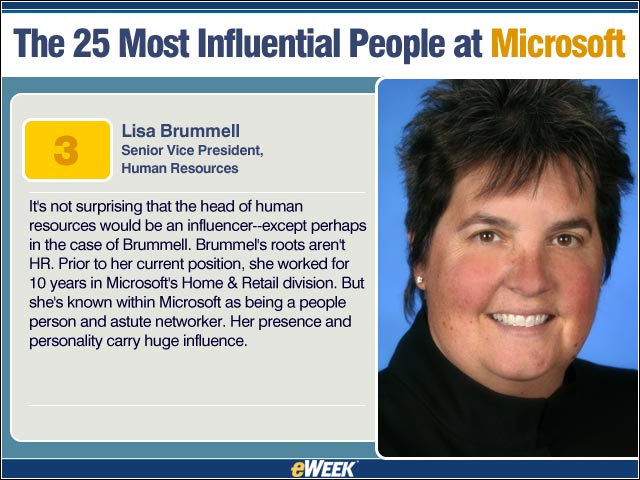 Brummel earned a bachelor's degree in sociology from Yale University and a master's degree in business administration from the University of California, Los Angeles. She is co-owner of the WNBA franchise Seattle Storm and is active in charitable ventures associated with Hopelink community services, the University of Washington Medical Center, Yale University and the Women's Funding Alliance. (courtesy of Microsoft)
She is a co-owner of the Seattle Storm, a professional women's basketball team in the WNBA.
Above Photo Credit: www.eweek.com
Comments
comments