PHOENIX — Katy Perry said her Super Bowl halftime performance was to make you "Roar" — with animals.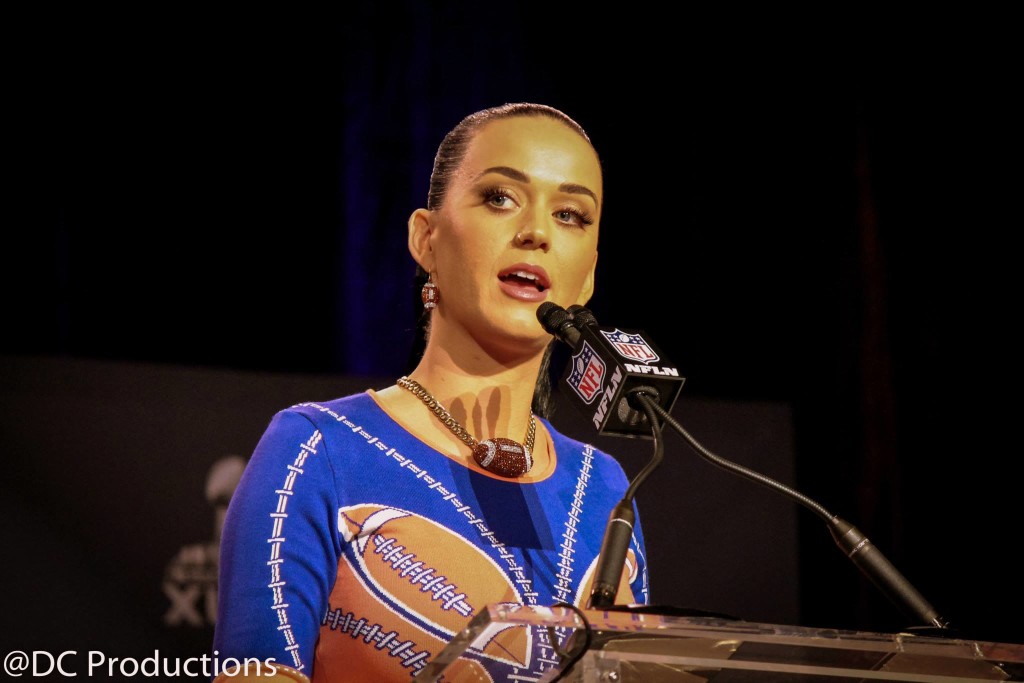 The singer told reporters at a press conference Thursday that her performance Sunday will include "a lion and sharks."
"It's going to be wild out there," Perry teased.
Perry, 30, said she feels blessed to perform on the Super Bowl stage "at such a young age." She said she enjoyed past Super Bowl performances from Beyonce and Madonna, and what she adds "is some lightheartedness."
The pop singer also made a nod to Deflategate and said there would be nothing under-inflated about her performance: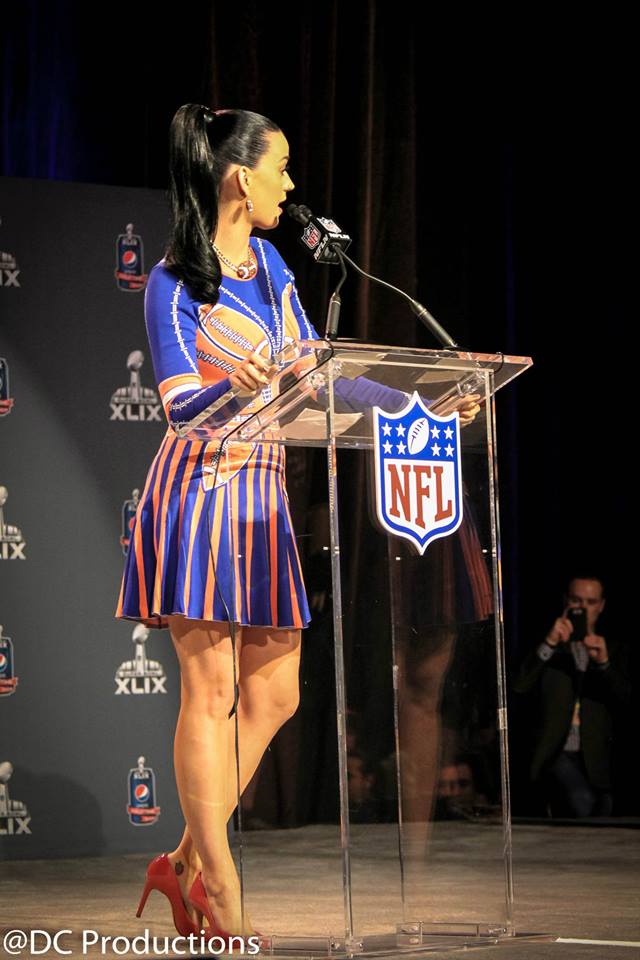 Lenny Kravitz will join the pop star at the University of Phoenix Stadium in Arizona. Perry said her performance will also include an "old school" female singer who she declined to identify but said would be instantly familiar from the get-go.
"When you hear the first ring of the chord, I think jaws will drop and faces will melt," she said.
She said the audience can expect to hear two of her hits, "Roar" and "Firework." Her performance would be a visual feast in the tradition of Madonna and will celebrate "female empowerment," she said.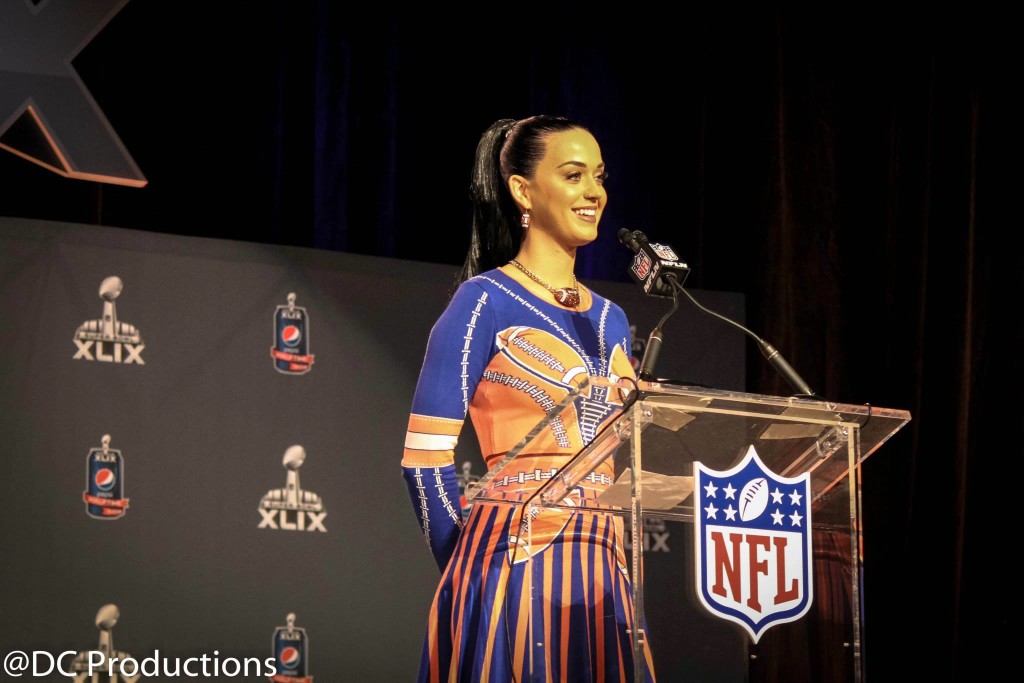 Perry said one element of the show is the unfurling of a giant screen that will go on the field for visual effects, and she'll also change her outfit several times.
She said the logistics of the performance will be difficult, and she plans to sing through much of it. "A lot of it will be live," she said.
Perry, who's in the midst of a world tour, said she's been closely involved in planning the extravaganza. "There is not a diamond on the shoe that has not gone past my eyes," she said.
"I feel that in some ways it's a spiritual experience for me," she said. "I just hope that at the end of the day, over 100 million people are all smiling in unison," Perry said.
Perry was playful with reporters, indulging one who wanted to take a selfie photo with her and shouting at a pair of puppets brought by a Mexican television crew.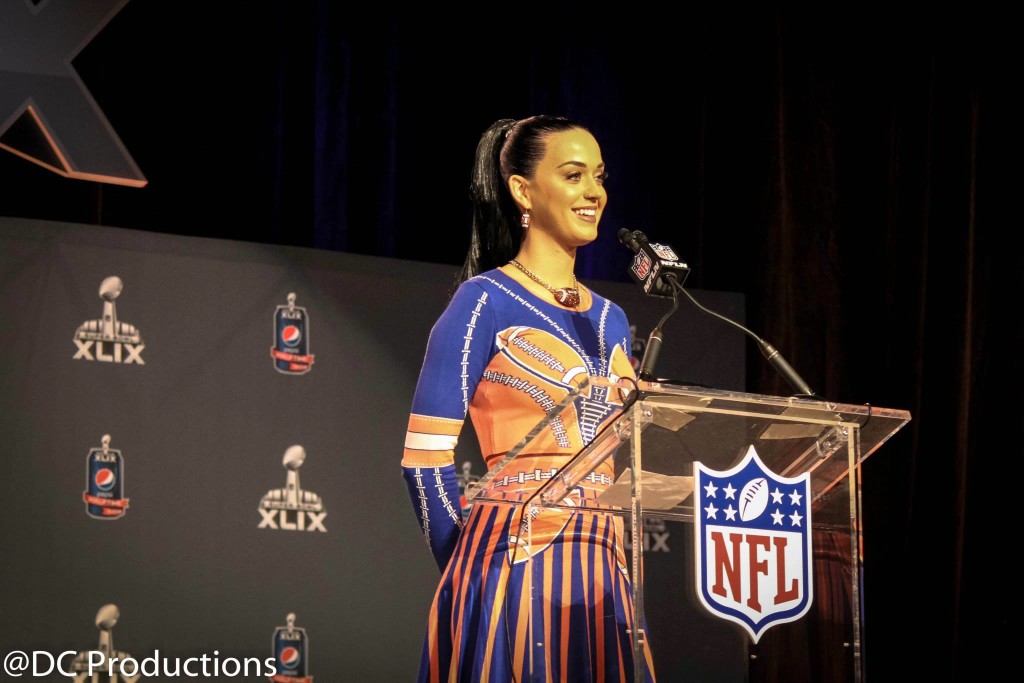 While she was enthusiastic about talking about her show, when the topic turned to her love life, Perry channeled Seattle Seahawks running back Marshawn Lynch, who's gained fame for refusing to answer reporters' questions.
"I'm just here so I don't get fined," Perry said with a serious face. In true Lynch fashion, she repeated the line again. Perry said she's good friends with Seahawks quarterback Russell Wilson and will be rooting for the Seahawks on Sunday. "I think that we're all athletes out there on the field," she said. "We're all very athletic in the show. We're really prepared."
KATY PERRY BIOGRAPHY
Katheryn Elizabeth Hudson (born October 25, 1984), better known by her stage name Katy Perry, is an American singer and songwriter. She had limited exposure to secular music during her childhood and pursued a career in gospel music as a teenager. Perry signed with Red Hill Records, and released her debut studio album, Katy Hudson, in 2001. She moved to Los Angeles the following year to venture into secular music. After being dropped by The Island Def Jam Music Group and Columbia Records, she signed a deal with Capitol Records in April 2007.
Perry rose to fame in 2008 with the release of the singles "I Kissed a Girl" – which had an attention-grabbing and somewhat controversial lyrical theme – and "Hot n Cold" from her second album, a pop rock record titled One of the Boys. Her third album, Teenage Dream (2010), ventured into disco, and contained the U.S. Billboard Hot 100 chart-topping singles "California Gurls", "Teenage Dream", "Firework", "E.T.", and "Last Friday Night (T.G.I.F.)" as well as the number-three single "The One That Got Away". The album became the first by a female artist to produce five number-one Billboard Hot 100 songs, and the second overall after Michael Jackson's album Bad (1987).
In March 2012, she reissued the album as Teenage Dream: The Complete Confection, which produced the chart-topping singles "Part of Me" and "Wide Awake". Her fourth album,Prism, was released in 2013, and is influenced by pop and dance. It has spawned the number-one singles "Roar" and "Dark Horse". Her songwriting is done in collaboration with others, especially Dr. Luke and Max Martin, and in songs such as "Firework" and "Roar" she stresses themes of self-empowerment and self-esteem. Perry is known for an idiosyncratic and fun-based sense of personal fashion that incorporates bright colors and food-based themes. Her concert performances feature elaborate stagings and costumings.
Perry has received many awards, including three Guinness World Records, and been included in the Forbes list of "Top-Earning Women In Music" for 2011, 2012, and 2013. Throughout her career, she has sold 11 million albums and 81 million singles worldwide, making her one of the best-selling artists of all time. Perry has also made celebrity endorsements and released perfumes Purr, Meow!, and Killer Queen. In July 2012, she released an autobiographical documentary titled Katy Perry: Part of Me, which concentrated on her life as a touring artist and the dissolution of her brief marriage to English actor and comedian Russell Brand in the early 2010s.
Ref: wikipedia.org, Photo Credits: Davies Chirwa.
Comments
comments