We Day makes history in Los Angeles
Directed and captured by Davies Chirwa for CHANNEL A TV.
For the first time in the history of WE DAY, the event was held at "The Forum" in INGLEWOOD, California on April 7th, 2016.
On April 7th 2016 in Inglewood, WE Day, a series of global educational events celebrating youth making a difference in their local and global communities, alongside Co-Title Sponsors Microsoft Philanthropies, Allstate and Unilever, and Southern California founding supporter, Stephanie Argyros and The Argyros Family Foundation, bring together world-renowned speakers and performers including Charlize Theron, Selena Gomez, Demi Lovato, Seth Rogen and Lauren Miller Rogen, Kermit the Frog along with other Muppets, Big Sean, Tyrese Gibson, David Foster, New Girl's Zooey Deschanel, Hannah Simone, Lamorne Morris and Max Greenfield, Nikki Reed, Lilly Singh, Joe Jonas, Darren Criss, Jacob Tremblay, Martin Sheen, Paula Abdul, Henry Winkler, Beatrice York, Rowan Blanchard, Sabrina Carpenter, Bridgit Mendler, Rico & Raini Rodriguez, Amandla Stenberg, Jordan Smith, Jordan Fisher, Connor Franta and more.
Alongside international activists and WE Day co-founders, Craig and Marc Kielburger, the cast of returning WE Day fan favorites and new faces join 16,000 students and educators from over 550 schools to celebrate the contributions of young people and kick-start another year of change. Today, actress, multi-platinum recording artist and UNICEF Goodwill Ambassador, Selena Gomez, takes the WE Day stage to energize thousands of students with an inspiring performance. "Today is my fourth time on the We Day stage. I continue to be inspired by the young people who are breaking down barriers and creating real change around the world." "Today, WE Day California will inspire 16,000 young leaders from across the state to get involved in their communities and continue doing great things," Stephanie Argyros, Co-Chair of WE Day California and President and CEO, Argyros Group. "WE Day helps students not only learn about how to give back within their own communities, but how to take the first steps in becoming active world-changers—I can't wait to see the incredible accomplishments made by students as they embark on another year of transformative change." WE Day California will energize the crowd through a day full of powerful educational speeches, inspirational moments and empowering performances. A few must-see highlights include: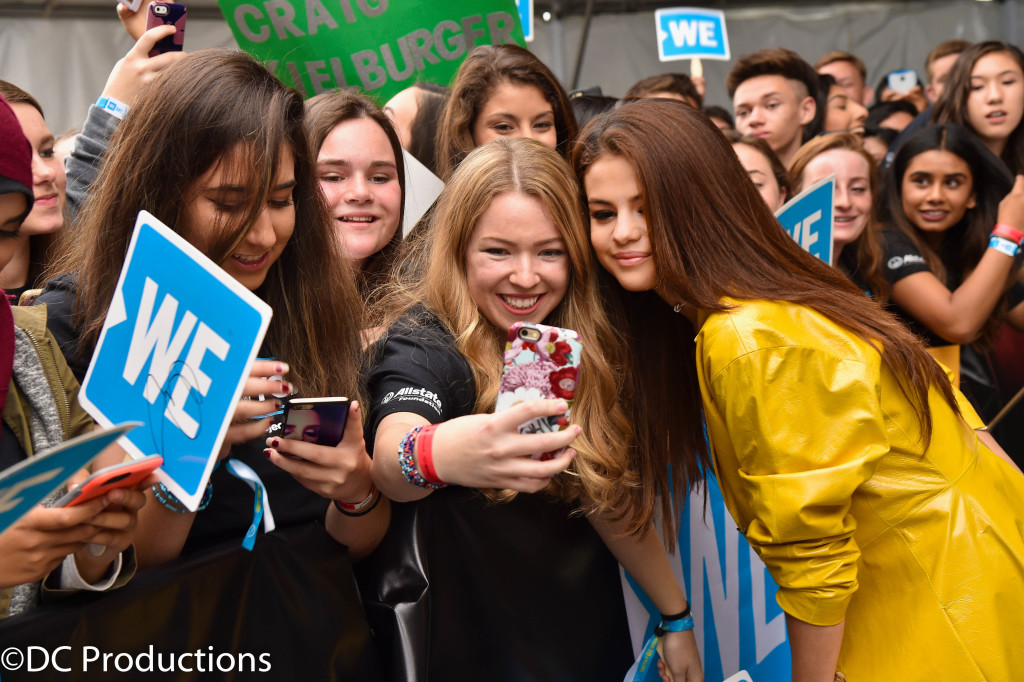 ***WE Day fan favorite, Selena Gomez, gets the crowd on their feet with a performance of her uplifting of her song "Kill Em' With Kindness"
*** Returning to the WE Day stage, singer, songwriter and philanthropist, Demi Lovato, delivers an emotional rendition of her hit song "Stone Cold"
*** Academy® Award-winning actress and Founder of Charlize Theron Africa Outreach Project and Honorary Co-Chair of WE Day California, Charlize Theron, inspires the audience, asking them to share in her goal of ending the stigma around AIDS/HIV.
*** GRAMMY® nominated hip hop recording artist, Big Sean, captivates the WE Day audience with a special version of his motivating hit song "One Man Can Change the World" alongside multi award-winning record producer, musician, composer and performer, David Foster, local Youth Orchestra LA (YOLA) at HOLA and over 100 students from 3 choirs across LA.
The full list of WE Day California speakers, performers and presenters, in alphabetical order, includes Paula Abdul, Stephanie Argyros, Big Sean, Rowan Blanchard, Christian Burgos, Sabrina Carpenter, Darren Criss, Zooey Deschanel, DJ Amara, Gracie Doran, Kathleen Dunlop, Jordan Fisher, David Foster, Reilly Fox, Connor Franta, Gunner Gehl, Tyrese Gibson, Selena Gomez, Max Greenfield, Yash Gupta, Corinne Hindes and Katrine Kirsebom, Olivia Holt, Jazz Jennings, Joe Jonas, Kardinal Offishall, Kermit the Frog along with other Muppets, Craig and Marc Kielburger, Demi Lovato, Austin Martin, George McGraw, Bridgit Mendler, Millennium Dance Complex, Elliot MivilleDeschênes, Lamorne Morris, Ashley Murphy, Nico & Vinz, Maya Penn, Nikki Reed, Revelation Avenue, Rico Rodriguez, Raini Rodriguez, Seth Rogen & Lauren Miller Rogen, Martin Sheen, Hannah Simone, Lilly Singh, Jeff Skoll, Jordan Smith, Amandla Stenberg, Charlize Theron, Xiuhtezcatl Tonatiuh, Jacob Tremblay, Spencer West, Henry Winkler, Youth Orchestra LA (YOLA) at HOLA and Beatrice York. "We believe that, if given the right tools, today's youth can conquer anything they put their minds to.
Annually, 200,000 students coast to coast and around the globe, from over 10,000 schools, earn their tickets to WE Day by creating tangible benefits for their communities," said WE Day co-founder Craig Kielburger. "By bringing together thousands of young change-makers today, students from across California will know that they're not alone and that collectively, they are making their voices heard." More than a one-day event, WE Day is connected to the yearlong WE Schools program, which provides hands-on, student-led campaigns designed to enhance a school's existing social initiatives or to spark new ones.
WE Schools helps young people turn the day's inspiration into sustained action. By taking action on one local and one global cause, students are equipped with the tools to succeed academically, in the working world and as active citizens. In the 2014/2015 school year, students and teachers from across North America participated in remarkable social change, donating over 2 million pounds of food to their local food banks and raising over $12.4 million dollars in support of local and global causes You can't buy a ticket to WE Day—students from across the country earn their way by the actions they take on one local and one global cause of their choice. WE Day is free of charge to the thousands of students and teachers in attendance at the event and statewide, thanks to the generous support of partners led by Co-Title Sponsors, Microsoft Philanthropies, Allstate and Unilever, and Presenting Partners Walgreens, RBC and City National Bank and KPMG. As supporters of WE Day California, Microsoft Philanthropies is proud to empower young people—in California and around the world—to achieve more through its YouthSpark initiative; Allstate emboldens future generations with the strength, confidence and skills to rise up as leaders and realize their full potential—and to show the world that good starts young; and Unilever is committed to creating a bright future for tomorrow's leaders by encouraging everyone to take small steps toward making sustainable living commonplace. WE Day is supported in Southern California by Co-Chairs, including founding partner Stephanie Argyros, President and CEO, Argyros Group and Jeff Skoll, Founder and Chairman, Participant Media, Chairman of the Skoll Foundation and long-time national supporter of WE Day. WE Day California was launched in.